Interactive flying at its best! This is not just a ride or a tour, it is a "demonstration" flight of flight training that counts toward a FAA pilot license.
Discovery / demonstration flights allow you to learn some basics of powered hang gliding, while soaring over one of the most beautiful places on earth. Few people get  to experience Lake Tahoe from the air.
Questions about winter flying? See how we keep warm and cozy with heated clothing in our Winter Flying page. Flying in the winter can be spectacular.
This "interactive" experience will put you in the pilot's seat! You'll leave not only with some real "hands-on" piloting time, but memories you'll never forget! You can fly as much as you want, except for takeoffs and landings which are performed by the highly qualified FAA certified flight instructor, Paul Hamilton.

Watch the video below to view some highlights of what you see on a 60 minute flight (cut down to 15 minutes) and what it is like to fly the powered hang glider. See Paul take a person for a first introductory trike flight.


 
You are instructed on the basics of flying powered hang gliders – one of the safest aircraft flying today. No experience is necessary. Instructor, Paul Hamilton gives you a hands-on lesson in trike flying while you soar over breath-taking Lake Tahoe in your own personal aircraft.
Our FAA registered N124AP Apollo trike is one of the most reliable, stable, quiet and fun light-sport aircraft in the world. This trike features tandem seating in which you, the student, is in the rear and the instructor in the front; similar to riding a motorcycle in the sky! The aircraft offers dual control from either front or rear seats and is powered by a super quiet and reliable Rotax aircraft engine. It also has a GPS and backup ballistic parachute system; a level of additional safety enjoyed by relatively few aircraft.
Your flight includes a two way intercom system (headsets) enabling easy communication between you and your instructor. Helmets, headsets and flight suits are provided. During your flight you will learn the basics of weight-shift control, aerodynamics and aviation safety as well as a bit about weather and its affects on aviation. A wing mounted camera is aboard and/or "air to air" for two trikes flying to record your experience as an optional package.
Flights leave from Carson City Airport, Carson City, Nevada and are scheduled in the morning only. (Reservations are required. All flights are weather permitting and subject to a 24 hour cancellation policy.) Add this experience to a day at the North Shore or South Shore of Lake Tahoe for a vacation adventure long to be remembered! Maximum weight for students is 250 lbs.
Paul Hamilton, an FAA certified pilot and flight instructor (CFI), has an impeccable safety record with thousands of satisfied adventurers experiencing the pleasure of powered hang gliding. Here we see Paul "with sunrise in his eyes" preparing the trike before you get there. The best flying is early in the morning when the winds are most calm. Paul is happy to fly all day but he wants you to have the best experience so he flies you in the mornings only.
Pre-Flight
We welcome you at your Check-In to get you signed in and into a flight suit that comfortably fits over your street clothing, state-of-the-art noise cancelling headset, and visored helmet.
After you are fitted with a flight suit and fit the helmet, we head to the exciting colors of the aircraft and get briefed on safety the basics for flight. You experience the thrill of sitting in the cockpit of your own sleek sexy aircraft. Communications are tested to make sure there is crisp clear transmissions between you and your pilot with the state-of-the-art noise cancelling headsets. Paul makes the last adjustments with the helmet and seat belt to ensure a safe and comfortable flight.
Take off!
Your filled with mounting anticipation as you roll out from the hanger, down the taxi way, and make that final turn onto the runway.
Then the engine reves as the aircraft gains speed to gently lift from the runway into the breeze that ushers you into the sky for to one of the most magnificent places on Earth. As you fly along you are shielded from the wind in the comfort of your flight suit and face shield of your helmet. Aloft and soaring with the birds, you will experience the spirit of flight.
Soon after takeoff, you will be shown how to control the aircraft by following along with your instructor. You will then, only if you wish, take the controls and fly the aircraft with the help of the instructor. The pilot will welcome questions on how to fly plus points of local interest you can fly to for  Lake Tahoe's extraordinary beauty. The beauty of flying is that to get to go and see things you can only do while flying.
Flying
Exhilaration, romance, and excitement fill every colorful moment of your high-spirited adventure… We can fly to locations you want to go. See the lessons page for popular places to fly. We can fly as high as you want, as high as 12,000 feet, or as low as 6 inches off the ground. The photo gallery (right) is the best way to see what you can see. These award winning pictures are used for magazine articles and promotions worldwide. You can have "wing mounted" photos of you for your flight if you choose the optional "camera package" and now

"Air to Air" photos when two fly together.
Air to Air close up photo:
One thing about the trike is the ability to fly low. Here is a video of ground skimming that everyone enjoys.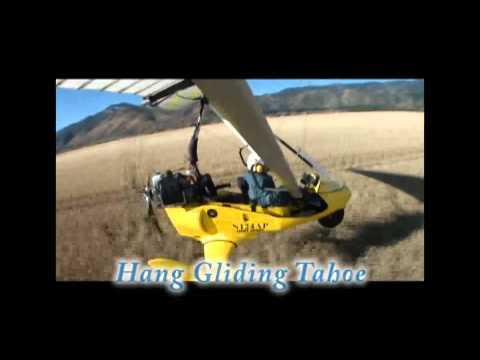 Landing
Flying back to the Carson City Airport, we get into the airport "traffic pattern" while communicating and  coordinating with the other pilots flying "regular airplanes" to sequence into position for landing. As you gently descend to the runway at the end of the flight your first impulse is to say, "Let's go again!".
The experience will last a half-hour or more, but the memories will last a lifetime!
There are few places in the world where you can do powered hang gliding with a FAA qualified flight instructor to ensure your safety. You can do skydiving, hot air ballooning, parasailing, paragliding, soaring/sail planes, boat lake cruises, river rafting, and helicopter tours during visits to other areas, so take advantage of Lake Tahoe Hang Gliding while you are there.
Pilot Certificate

An official "logbook endorsement" is issued with a colorful pilot certificate (shown at right) providing this flight as official FAA pilot training time.
Remember and Share Your Flight with Photos
Best stories are told and friendships are celebrated as the high quality images are burned to a DVD so you can put it in a DVD player and show them to everybody, or pull the high quality images of the DVD and blow them up, e mail them, or post them to Facebook or other social media so everyone can see what you did using professional photos of you. (Photo package optional)
Tell Everyone You Went Hang Gliding at Lake Tahoe!
Pick out a T shirt (optional) to let everybody know that you went Hang Gliding at Lake Tahoe. We have adult "T" shirts and special "Ladies cut" shirts to commemorate your hang Gliding adventure at Lake Tahoe.
We now have a variety of new high quality embroidered shirt plus hats available.
Call Us Now 775.772.8232